Dear User,
This website provides you with information only for healthcare professionals. According to the drug promotion code, we are only able to allow healthcare professionals like physicians and pharmacists to have full access to our website. To visit our page please login.
A Place that feels like Home
A Place that Feels Like Home
We Support the Transformation of an Orphanages in Eastern Europe into Family Apartments Through Many Different Activities.
Until today, the charity organization "Little Hearts" has enabled more than 1,500 children to live a better life over the past twelve years with dedication and enthusiasm. In total, around 2 million euros were invested in construction and renovation projects and 800,000 euros in educational projects.
Helping to Build a Better Future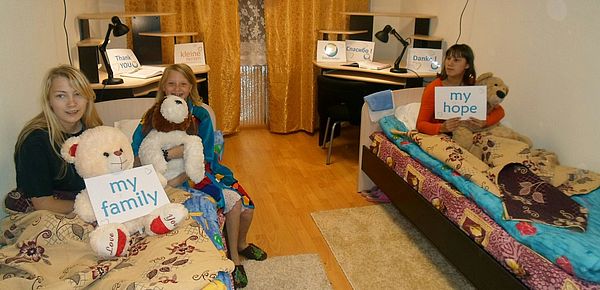 Our diverse social initiatives to support "Little Hearts" are met with generous support among our employees throughout Europe. Over the past 5 years, we have been able to support various projects such as:
the furnishing of a physiotherapy station for an orphanage in Ukraine
the renovation and installation of a new medical Department in the Caritas-Spes Social Center St Martin for street children, Roma-Children and children of poor families in Ukraine
the construction of a wheelchair lift at the children's home of Belskoye Ustye for children with severe disabilities in Russia
"my family my hope" in Pskov Region, Russia
Another initiative supported by our colleagues is the "My Family - My Hope" project: It aims to transform the orphanage/boarding school of Vorontsovo into family-run apartments for Russian social orphans and needy children with disabilities. Conditions were created for the living and the education of 40 children after the family principle. Thanks to the donations made by our employees, it was possible to renovate and equip several apartments.
When Daiichi Sankyo Employees Act as Christmas Angels
Our partner "Little Hearts" initiated the "Christmas Angel" Campaign. Although the organization's focus is on sustainable development, transforming orphanages in Russia and the Ukraine into a family-like environment, founder Pascale Vayer also sees the need for a special support around Christmas. The orphanages lack the money to fulfil children's special wishes during the holiday season. When they receive gifts – some accompanied by Christmas cards with personal wishes – the orphans realize that people care for them and their well-being.
Many Daiichi Sankyo colleagues felt that this initiative connected their families with children in need. "Little Hearts" Founder' Pascale Vayer says: "Sharing increases happiness." This was also what our colleagues experienced when they received pictures showing "their" child unwrapping a Christmas present. The gifts ranged from toy cars and dolls to practical items such as bonnets and shawls.